Cheap flights to Paris
Find cheap flights to Paris from low cost and scheduled airlines. Book now with eLandFly your airline tickets to Paris at a good price.
Paris, the city of lights and love, is located in the heart of France. Loved for its unique atmosphere, architecture, and numerous delights, Paris is considered one of the most beautiful cities in the world.
Tour the city and its most interesting places with a Free Tour.
Find cheap flights to Paris
Are you wondering how we can be sure that you will buy the cheapest flights to Paris in the search engine? The answer seems very simple, although there is an innovative technology behind the website.
You have the option to book any airline in the world. Include airlines low cost and airlines more luxurious, so at the beginning you have access to all possibilities.
The search engine, you can find direct offers to Paris, low-cost companies and regular airlines, flights operated by two companies and flights with a normal transfer and Smart Connection.
We are sure that you will not find a connection at a lower price and we guarantee it.
When to book cheap flights to Paris
The flights to Paris have their lowest rates for the months of March and December. This is the best time to book flights and accommodation. The main airlines that operate direct flights to Paris are Air France, KLM, Vueling Airlines and Iberia.
Paris airport
The Paris airport Charles de Gaulle is the largest airport in France. Serves almost 60 million passengers a year.
There are 3 terminals : the third terminal is used mainly by low-cost airlines and charter flights. Terminals 1 and 2 have their own underground RER station, and Terminal 2 has an additional TGV station.
The large Paris Orly airport located south of Paris plays an auxiliary role in relation to the Charles de Gaulle airport. There are 2 terminals: Orly Ouest and Orly Sud. Connections are made primarily in Europe, Africa, the Middle East and the Caribbean.
The airport Beauvais Tille is approximately 85 km to the north of Paris; the smallest of the agglomeration of Paris. It serves mainly low-cost airlines, almost 2 million passengers a year.
Best time to visit Paris
Buying tickets for cheap flights to Paris is a great idea for a weekend or a honeymoon. It is better to visit Paris in spring, even despite the rain.
The city is located in a temperate climate zone with an average annual temperature of around 10.5 ° C.
In the summer season it can be very hot here, although the usual temperature is around 20 ° C. Also, summer is the best time to organize festivals and outdoor events; consider staying in July or August if you are interested.
The city always surprise you with something! Also, flights to Paris in the fall and winter are usually cheaper.
What to see in Paris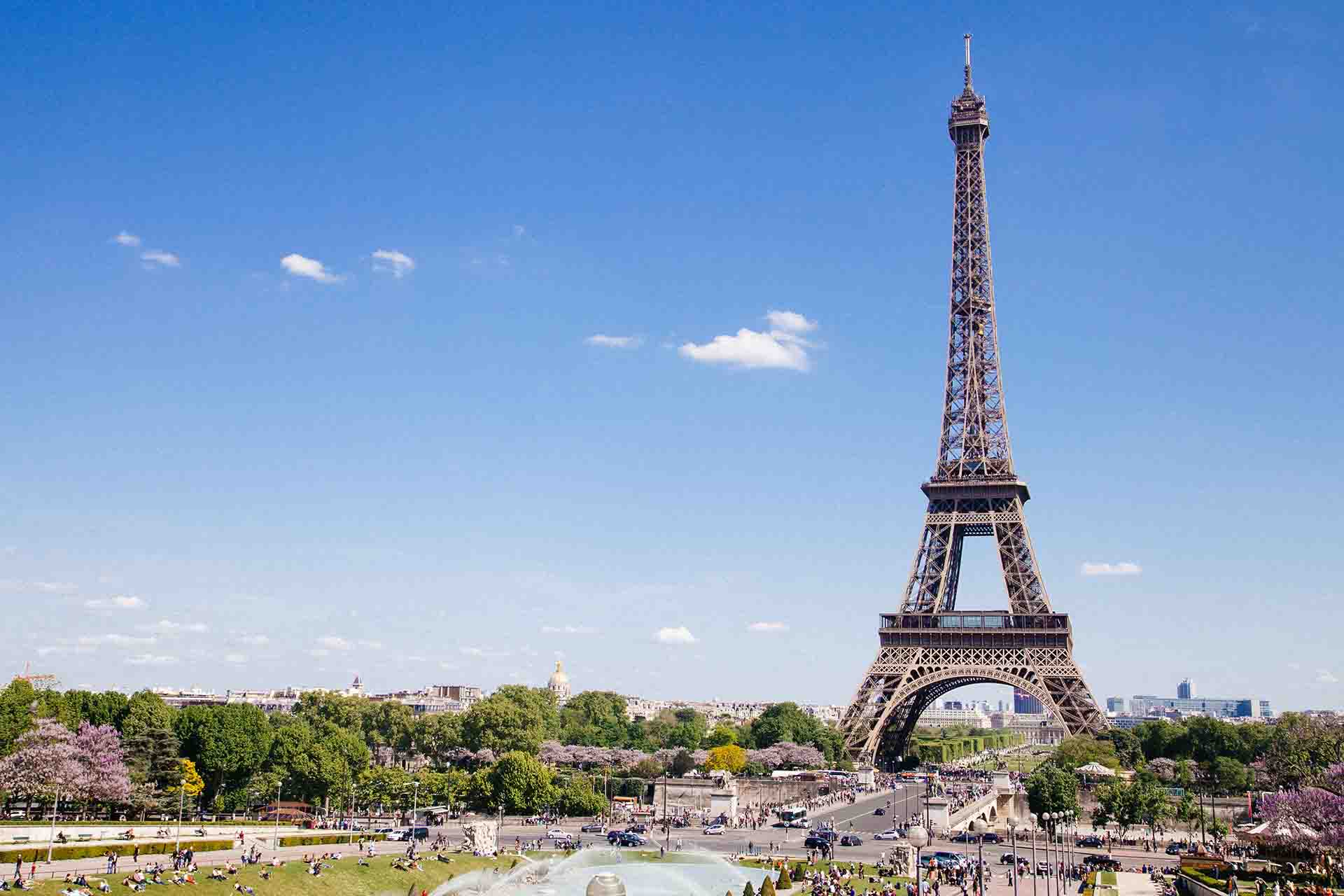 Paris has been at the top of the tourist list for many years. The Eiffel Tower, the fabulous Champs Elysees, the Arc de Triomphe, the Louvre or the Sacré-Coeur basilica are just some of the attractions. The capital of France offers much more.
Stroll through the city aimlessly, get lost in the maze of narrow cobbled streets, take a cruise on the Seine, visit Disneyland, shop in elegant boutiques.
Discover more and more new attractions, finally trying authentic French croissants in charming cafes, where fantastic music is playing. These are not all the reasons why Paris is worth visiting, but it is impossible to list them all.
Airports in Paris
Paris Beauvais (IATA: BVA)
Route de l'Aéroport, 60000 Tillé, Francia
Beauvais Airport (IATA code BVA) is a commercial airport located in the community of Tillé, 4 kilometers northeast of Beauvais and 80 km north of Paris. This airport is used by low-cost airlines, mainly Ryanair, with destinations throughout Europe.
Paris Charles de Gaulle (IATA: CDG)
Avenue Charles de Gaulle, 95700 Roissy-en-France, Francia
Paris-Charles de Gaulle International Airport (IATA: CDG), is an airport located in the metropolitan area of Paris, France designed and developed by French architect Paul Andreu. It is the main airport of the French nation and is one of the most important aviation centers in the world.
Paris Orly (IATA: ORY)
94390 Orly, Francia
Paris Orly Airport (IATA: ORY), is an international airport located in Orly, France. It serves as a secondary hub for Air France flights in national and foreign territories and as a base of operations for Transavia France. Flights operate to destinations in Europe, the Middle East, Africa, the Caribbean, North America, East Asia, and Southeast Asia.
Tips to find flights to Paris
March and December are the cheapest to travel to Paris according to our data.
eLandFly compares flights on hundreds of airlines and travel websites to offer you the cheapest airline tickets to Paris. Fill in the form fields and let yourself be surprised.
Our users have found flights to Paris from 17.00€!
You may also like: