Cheap flights to New York
Find cheap flights to New York from low cost and regular airlines. Book now with eLandFly your flight tickets to New York at a good price.
Your vacation period is approaching and you are looking forward to traveling to your dream destination, because who wouldn't want to travel to New York?
It is one of the most emblematic cities in the United States and it is not for nothing, since it has a large number of attractions to visit. Here you will not only find incredible modern buildings, but you will also get to know the beautiful flora that can be represented quite well in Central Park.
As if that were not enough, not everything is structure or wonderful spaces, but you will also learn about history (in its museums), customs and much more.
Tour the city and its most interesting places with a Free Tour.
Find low cost flights to New York
Without a doubt, there is always a good reason to fly to New York, as it has quite a wide biodiversity.
It also has three international airports, which are John F. Kennedy Airport (JFK), La Guardia (LGA) and Newark Airport (EWR).
It should be noted that La Guardia airport (LGA) is the closest to the city. However, these airports are well connected with other transport services, which will help you reach your destination.
These airports work with numerous flight lines every day, so you can research and find cheap flights to New York, with the help of eLandFly.
With these cheap flights, you will be able to enjoy your well-deserved vacations avoiding paying high travel costs, in order to use your budget in tourist attractions, which are innumerable.
When to book cheap flights to New York
According to our data, the airlines United, British Airways, Iberia and Air France, among others, offer cheap flights to New York during the months of April and May.
When is it recommended to travel to New York?
There are many factors that determine when it is most convenient to catch a flight to New York.
Regarding the climate, it is preferable to avoid the summer and winter seasons, since respectively very high and low temperatures are presented.
It is ideal to visit in autumn or spring, since the climate is somewhat more balanced. Specifically, the months of April, May, September and October are suitable.
Why travel to New York?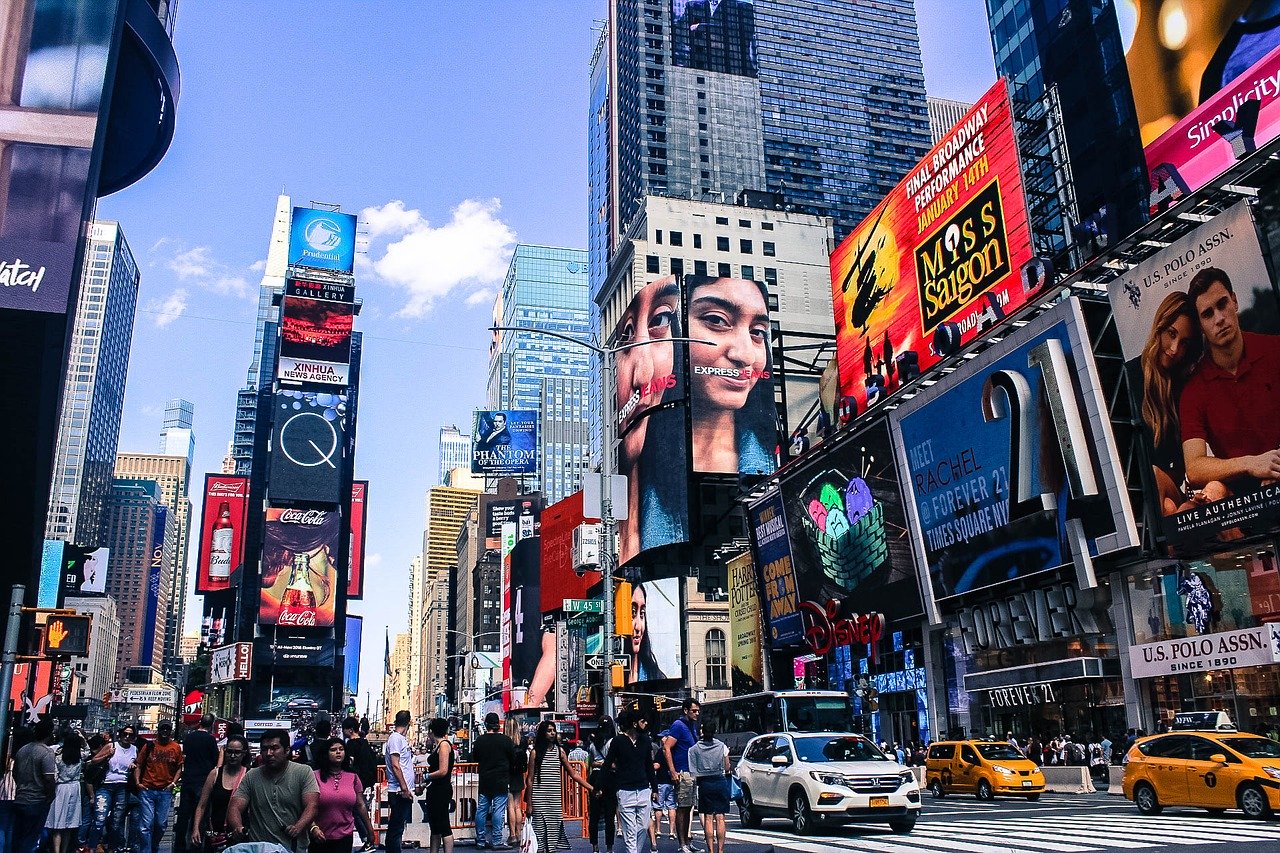 If you have never traveled to New York before, it is likely that every second you will be surprised. Since it is not a destination that can be contemplated every day.
You can start your tour from the tall buildings, as these are the most popular activities, such as climbing the Empire State Building, the One World Observatory or the Top of the Rock.
Contemplating a sunset in the city from high skyscrapers is an adventure that you cannot miss.
To confirm that your flight to New York has been worth it, you must visit the High Line, a linear park of great distance, where train tracks used to be housed.
If you would like a change of scenery, leave nature for a moment and visit an amazing urban center, Times Square is a great option.
This city has several screens in the buildings, which makes it a pleasant city for many. In addition, you can relax and taste diverse gastronomy in its premises and businesses.
Hudson Yards,
Central park.
Metropolitan Art Museum,
The statue of Liberty,
MoMA,
Solomon R. Guggenheim Museum.
Among many others, where you will get unique memories that will accompany you for a lifetime.
Visa to visit New York
If you live in any of the European Union countries, it is not necessary to obtain a visa to visit New York, but you will need to process the Electronic Authorization System or ESTA in order to travel. You will have to do it by completing an online form well in advance.
For any other countries, we advise you to contact the embassy or check online if a visa is necessary for entry.
Airports in New York
New York Newark (IATA: EWR)
Newark International Airport Newark, NJ 07114, Estados Unidos
Newark Liberty International Airport (IATA: EWR) is located 15 miles from New York. It has a traffic of 30 million passengers a year.
New York John F. Kennedy (IATA: JFK)
John F. Kennedy International Airport, Jamaica, NY 11430, Estados Unidos
John F. Kennedy International Airport (IATA: JFK) is 30 kilometers from downtown New York. This airport is the most used in the United States.
New York LaGuardia (IATA: LGA)
La Guardia Airport, Flushing, NY 11371, Estados Unidos
LaGuardia Airport (IATA: LGA) is located 20 kilometers from downtown New York.
Stewart International (IATA: SWF)
1180 1st St, New Windsor, NY 12553, Estados Unidos
Stewart International Airport (IATA: SWF) is located 70 kilometers from downtown New York.
Tips to find flights to New York
The airlines offering regular flights to New York are United, British Airways,
Iberia
and Air France
April and May are the cheapest to travel to New York according to our data.
eLandFly compares flights on hundreds of airlines and travel websites to offer you the cheapest airline tickets to New York. Fill in the form fields and let yourself be surprised.
Our users have found flights to New York from 126.00$!