Cheap flights to Ibiza, compare Offers
Find cheap flights to Ibiza on the eLandFly flight search engine. Compare flight offers to Ibiza, book your flight tickets at the best price.
How to find cheap flights to Ibiza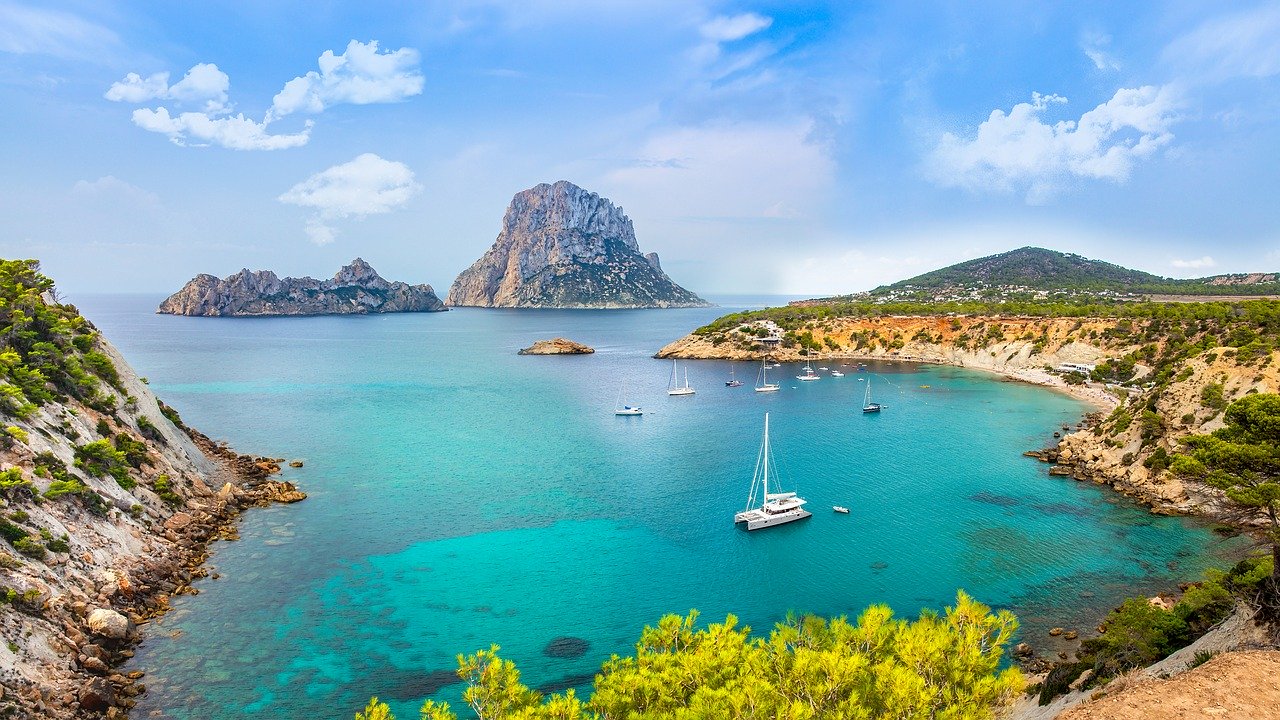 Ibiza is a Spanish island located in the Mediterranean Sea and is part of the Balearic Islands. It is famous for its nightlife and its paradisiacal beaches with crystal clear waters. In addition, it has a large number of historical and cultural sites, such as the walled city of Dalt Vila, declared a World Heritage Site by UNESCO. It is also known for its spectacular sunsets in emblematic places such as Benirrás beach.
eLandFly will help you search and compare cheap flights to Ibiza in just a few seconds. Find the lowest prices for your plane ticket and book the option that best suits your needs. Remember to be flexible with your travel dates and look for last minute flights, so you are more likely to find good deals on flights to Ibiza.
What is the best time to book cheap flights to Ibiza
The best time to book cheap flights to Ibiza depends on several factors, such as the season in which you want to travel, the demand for flights and the anticipation with which you make the reservation.
Here are some tips to find the best deals on cheap flights to Ibiza:
Book early to get the best prices, we suggest booking 4 to 6 weeks in advance, you can save up to 20% of the price.

Be flexible with your travel dates. Flying a day earlier or coming back two days later can lower the price considerably.

Avoid peak seasons, as prices may be higher during these seasons. If you travel during low season, you will be more likely to find good deals on flights to Ibiza.

Download our APP and use the "If the price drops" tool, we will notify you by email and a notification if we detect a price drop for that flight.
Which airlines fly to Ibiza
The airlines Iberia, Vueling Airlines, Ryanair and Air Europa usually operate routes to or from Ibiza. These airlines offer a total of up to 15 daily routes, connecting the airport with Palma de Mallorca, Santiago de Compostela, Madrid, Tenerife or Melilla. Some of these routes often have great deals on flights to Ibiza, eLandFly users have found cheap airline tickets to Ibiza for as low as 28.00€.
When to travel to Ibiza
Ibiza is a popular tourist destination all year round, although the weather and range of activities may vary depending on the season. High season (June to September): during the summer, Ibiza fills up with tourists and the island becomes one of the world's top party destinations. During this period, the temperature is warm and the offer of activities and events is wide, although prices may be higher than at other times of the year. Low season (November to March): during the winter, the island is quieter and many establishments close their doors. However, the temperature remains mild and the island offers a wide range of cultural and sporting activities. Find the best deals on flights to Ibiza by comparing the different routes and prices with eLandFly.
Our recommendation is to book your flight to Ibiza during the months of April, May and October, as temperatures are great and there are fewer tourists. Although if you travel during the months January and February you will find very good deals on flights to Ibiza.
Airports in Ibiza
Ibiza (IATA: IBZ)
07820 Sant Antoni de Portmany, Balearic Islands
Ibiza Airport (IATA: IBZ), is located 7.5 km from the center of the city of Ibiza. Ibiza airport is characterized by the seasonality of its demand and by its eminently touristy nature. It maintains a very important regular inter-island and peninsular traffic.
To get from Ibiza Airport to the city center, you have several options:
Bus: From Ibiza Airport, you can take the public transport service "Line 10", which goes to the city center. The buses run approximately every 20 minutes and the journey takes around 20-25 minutes.
Taxi: There is a taxi rank at the exit of the airport. The journey to the city center takes about 10-15 minutes, depending on traffic, and the price varies depending on the time of day and day of the week.
Car rental: There are several car rental companies at Ibiza Airport, which will allow you to move around the island with greater comfort and freedom.
Private transfer: You can also book a private transfer from the airport to your accommodation in the city center. This is a comfortable and safe option, especially if you are traveling with luggage or in a group.
Tips to find flights to Ibiza
eLandFly compares flights on hundreds of airlines and travel websites to offer you the cheapest airline tickets to Ibiza. Fill in the form fields and let yourself be surprised.
You may also like: