Discover the Best of Chiang Mai: Tours and Activities
Discover the best of Chiang Mai with amazing tours and activities. Explore the centuries-old temples, its local gastronomy. Live a unique experience.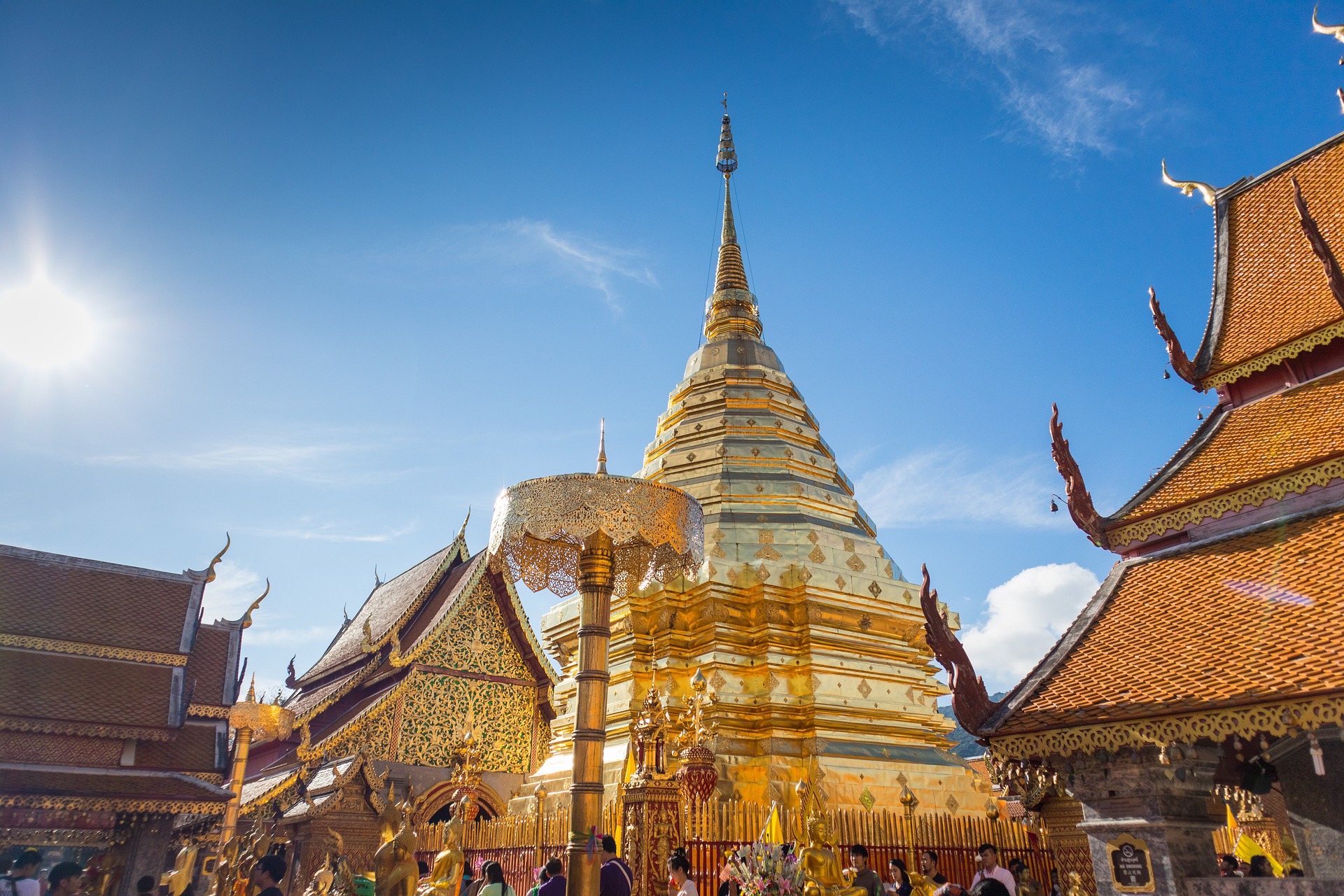 Chiang Mai is famous for its impressive temples, such as Wat Phra That Doi Suthep, located on top of a mountain and offering spectacular panoramic views of the city. Another must-see is the White Temple (Wat Rong Khun), whose dazzling white architecture will leave you speechless.
But Chiang Mai is not only about temples, it also offers a wide range of exciting activities to enjoy. You can explore the local markets to indulge in authentic Thai cuisine and try exquisite dishes such as khao soi or pad thai. In addition, you can venture out on an elephant ride through the jungle or discover the hill tribes that inhabit the surrounding area.
If you love shopping, you cannot miss the opportunity to visit the famous Chiang Mai night market. Here you will find all kinds of traditional Thai handicrafts, from silk to hand-carved sculptures.
In short, Chiang Mai is a fascinating destination that combines history, nature and culture in perfect harmony. Whether you are an adventure lover, a cultural treasure seeker or simply looking to relax in a tranquil setting, Chiang Mai has something for everyone - get ready to discover the beauty and culture of this amazing Thai city!
Tours and Activities to See the Most Impressive Temples in Chiang Mai
If you are planning to visit Chiang Mai, you can't miss out on exploring the stunning temples this city has to offer. With their rich history and dazzling architecture, the temples of Chiang Mai are true cultural gems that will transport you to another era.
One of the most outstanding temples is Wat Chedi Luang, known for its imposing chedi (stupa) that rises majestically into the sky. This temple is a living testimony to the ancient Lanna Kingdom and offers a fascinating insight into Thai history.
Another must-see temple is Wat Phra That Doi Suthep, located on a mountain with panoramic views of the city. This sacred site houses a holy relic of Buddha and is an important religious center for locals. In addition, its intricate golden architecture will leave you speechless.
Wat Phra Singh is also worth a visit during your tour of Chiang Mai temples. This beautiful complex houses the revered Phra Singh Buddha and features exquisite wood carvings and unique architectural details.
If you wish to fully immerse yourself in the experience of experiencing these magnificent temples, you can opt for a tour guided by local experts. This way, you can learn about the history and traditions behind each of them while enjoying the peaceful and spiritual atmosphere that surrounds them.
In short, if you are looking for an unforgettable cultural experience in Chiang Mai, you cannot miss the opportunity to explore the city's most impressive temples. From Wat Chedi Luang to Wat Phra That Doi Suthep and Wat Phra Singh, each one will captivate you with its beauty and historical significance - get ready to immerse yourself in the spiritual essence of Thailand as you discover these architectural treasures!
Venture into Nature: Chiang Mai Mountains and National Parks Excursions
Venture into nature and discover the beauty of Chiang Mai's mountains and national parks! If you are a lover of breathtaking scenery, exciting treks and the serenity that only nature can offer, this section is perfect for you.
One of the most outstanding destinations is Doi Inthanon National Park, known as the "roof of Thailand". Here you can explore a variety of trails that take you through lush tropical forests, spectacular waterfalls and unparalleled panoramic views. Whether you prefer a relaxed hike or a more demanding challenge, Doi Inthanon has something for everyone.
In addition to Doi Inthanon National Park, Chiang Mai offers numerous options for trekking enthusiasts. You can venture into the surrounding mountains and discover breathtaking scenery while immersing yourself in the tranquility of nature. From short treks to longer expeditions, there are routes for all levels of experience.
If you're looking to cool off in the tropical heat, don't miss the beautiful waterfalls of Mae Sa. These natural oases are the perfect place to take a dip and enjoy the tranquil and picturesque surroundings. You can relax by the waterfalls or venture out to explore their surroundings while marveling at their natural beauty.
In short, Chiang Mai offers a wide range of nature experiences that will surely satisfy those who love adventure and tranquility - don't miss the opportunity to explore the mountains and national parks of this beautiful Thai region!
Cultural Immersion: Discover Authentic Local Life with Traditional Market and Village Visits
Immerse yourself in the authentic local life of Chiang Mai with visits to traditional markets and villages. Discover Thailand's rich culture as you explore the vibrant Chang Khlan night market, where you'll find a wide variety of local and exotic products. Delve into the charming handicraft village of Bo Sang, known for its colorful hand-painted umbrellas and ancient paper-making tradition.
Don't miss the opportunity to visit the local Warorot market, a real hidden treasure where you can immerse yourself in authentic Thai culture. Here you will find a wide variety of fresh produce, exotic spices and local handicrafts that reflect the essence of the country.
These experiences will allow you to get up close and personal with the customs and traditions of the Thai people, interact with the locals and taste delicious local dishes. Get ready for a unique cultural immersion that will leave you with unforgettable memories!