Activities and Free Tours in Bangkok
Discover the best of Bangkok by booking activities and free tours. Explore iconic temples, enjoy street food, and immerse yourself in culture.
If you are planning to visit Bangkok, the vibrant capital of Thailand, you are probably wondering what free activities and tours you can enjoy in this fascinating city. Bangkok is known for its rich culture, exquisite cuisine and impressive Buddhist temples. But in addition to these traditional attractions, the city offers a wide range of sightseeing experiences that will allow you to immerse yourself in its authentic lifestyle and discover unique corners. In this article, we will explore the most popular activities and free tours you can't miss during your visit to Bangkok. From local market tours to boat rides on the Chao Phraya River, there is something for every taste and budget - get ready for an unforgettable experience in this captivating Thai city!
Explore Bangkok's Most Impressive Temples with a Free Guided Tour
Discover the majesty of Bangkok's most impressive temples with an exciting guided free tour. The Thai capital is famous for its rich history and culture, and its Buddhist temples are true architectural gems that you can't miss. Among the most prominent temples are Wat Arun, Wat Phra Kaew and Wat Pho, each with its own unique beauty.
Wat Arun, also known as the Temple of Dawn, stands majestically on the banks of the Chao Phraya River. Its imposing towers decorated with multicolored mosaics glisten in the sun and offer a spectacular panoramic view of the city.
Wat Phra Kaew, located in the Grand Royal Palace, houses the Emerald Buddha, a sacred jade-carved statue that is considered one of Thailand's most precious treasures. Its detailed architecture and elaborate decorations will leave you speechless.
Last but not least is Wat Pho, famous for being one of the oldest and largest temples in Bangkok. Here you will find the imposing reclining statue of the golden Buddha, which is approximately 46 meters long and covered entirely in gold leaf.
To make the most of your visit to these amazing Buddhist temples in Bangkok, a free tour guide will accompany you throughout the tour. The expert guide will share with you fascinating stories about Thai history and traditions, and show you the highlights of each temple.
Don't miss the opportunity to explore these impressive temples and immerse yourself in the spirituality and beauty of Bangkok. Book your guided free tour now and marvel at the grandeur of the Buddhist temples in this vibrant city.
Immerse yourself in the Local Culture with a Visit to Bangkok's Floating Markets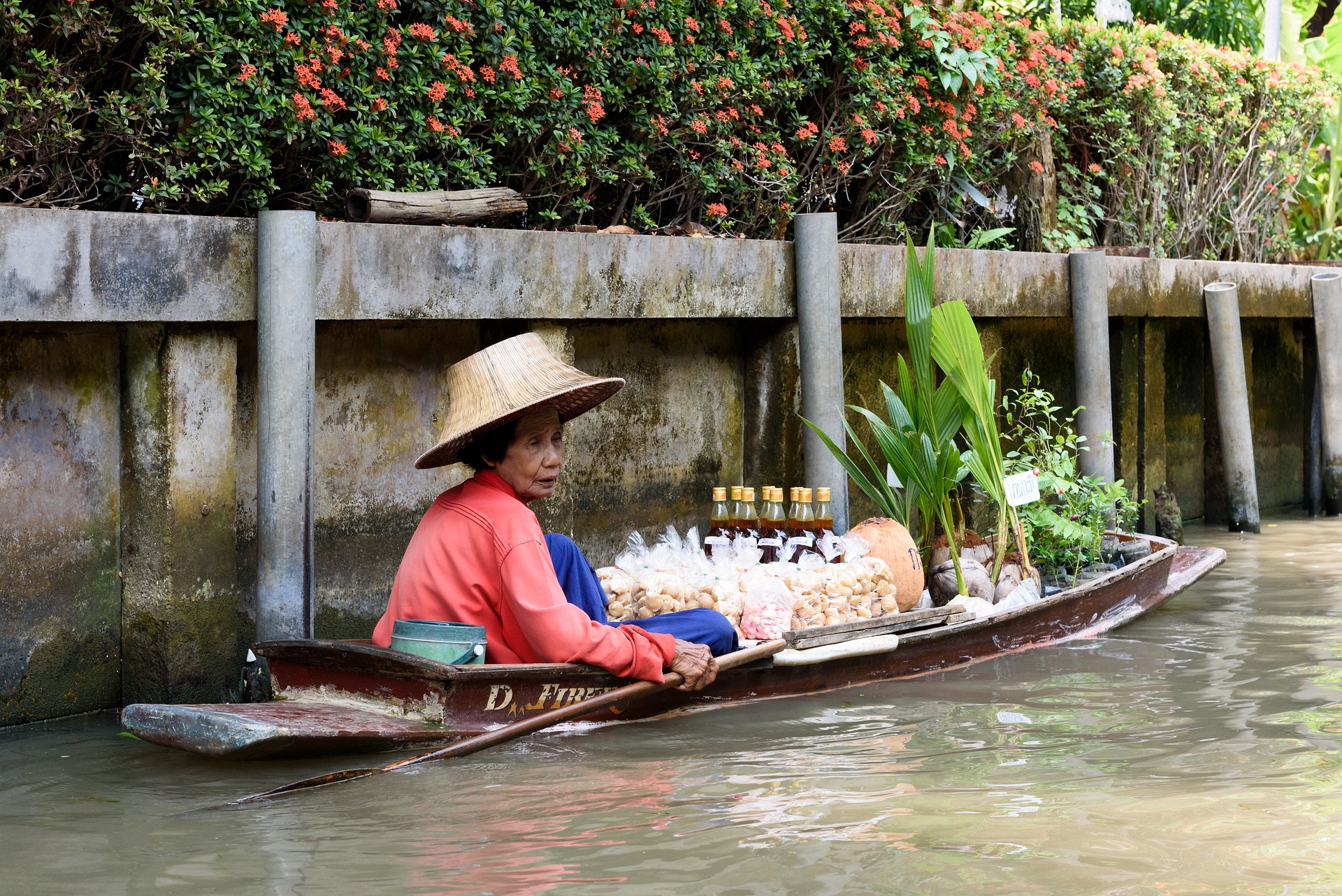 If you're planning a trip to Thailand, you can't pass up the opportunity to immerse yourself in the local culture and experience the authenticity of Bangkok's floating markets. These markets are a true gem of Thai culture and offer a unique experience that you won't find anywhere else in the world.
One of the most famous floating markets is the Damnoen Saduak floating market, located just outside Bangkok. Here you can cruise the canals in a traditional Thai boat while admiring the colorful floating stalls filled with fresh fruits, exotic vegetables and delicious local dishes.
Another must-see floating market is the Amphawa Floating Market, known for its lively atmosphere and numerous dining options. Here you can indulge in a wide variety of authentic Thai dishes, such as the famous pad thai or the refreshing mango sticky rice.
In addition to enjoying the gastronomic experiences, these markets also allow you to interact with the locals and learn more about their unique way of life. You can witness how they trade from their small boats and discover traditional handicraft products that reflect Thailand's rich history and culture.
In short, visiting Bangkok's floating markets will provide an unforgettable experience for all your senses. Immerse yourself in the local culture, savor delicious Thai dishes and discover the authenticity that only these markets can offer. Don't miss the opportunity to live this unique adventure during your visit to Thailand!
Live the Unique Experience of a Chao Phraya River Walk at Dusk
Discover the unique experience of a sunset Chao Phraya River cruise and be captivated by the beauty of Bangkok! This boat ride will give you breathtaking panoramic views of the illuminated city at sunset, creating a magical and romantic atmosphere.
Imagine cruising along the tranquil waters of the river while gazing at the iconic temples and skyscrapers lining its banks. From the majestic Wat Arun to the imposing Grand Palace, each stop will amaze you with its dazzling architecture and fascinating history.
But the experience is not limited to spectacular views. During the ride, you can enjoy a delicious dinner on board the boat. Savor exquisite Thai dishes prepared with fresh ingredients and authentic local flavors, while toasting with a glass of wine or champagne.
Whether you are looking for a romantic evening with your partner or simply want to explore the nighttime beauty of Bangkok, this boat ride on the Chao Phraya River is an unbeatable option. Experience unforgettable moments as you immerse yourself in the magic of this unique experience - don't miss the opportunity to experience it!